A new native wildlife rescue shelter for WIRES East will be built in Randwick under a jointly funded program by Randwick Council and the NSW State Government, Randwick Mayor Dylan Parker announced today, 29 March 2023.
The new shelter will replace the existing WIRES facility located near Randwick Community Centre where volunteers temporarily house and care for rescued native wildlife.
"WIRES is run by a dedicated group of volunteers committed to protecting and preserving our wildlife," Mayor Dylan Parker said.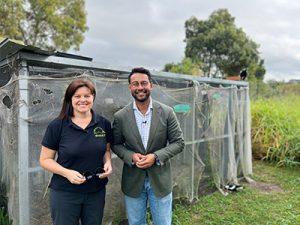 "They do amazing work caring for injured native wildlife 365 days a year. This new facility will be purpose built and designed to support the volunteers, making their work easier and more effective," said Mayor Dylan Parker.
The new facility will be environmentally friendly and will result in animal enclosures that are easier to clean and maintain. The end result will be a purpose-built facility that will be safer and cleaner for both the animals and volunteers who work there.
Increasing urbanisation in Sydney's eastern suburbs has seen a growing number of animals being rescued each year, with more than 3500 animals being rescued each year, including possums, birds, snakes and sometimes sea animals such as fairy penguins and turtles.
"We're looking forward to having a new facility that is able to be cleaned a lot more easily and is much safer for both our wildlife and our volunteers," said Kirsten Armstrong, a volunteer from WIRES.
The new facility will be built adjacent to its current location within the sustainability education 'hub' near the Randwick Community Centre.
The project is made possible by a $400,000 grant under the NSW Government's Metropolitan Greenspace program which is being matched by Randwick Council, with a contribution from WIRES too.
Randwick Council is currently undertaking design and documentation of the project with the plans expected to be put on public exhibition in 2023. Construction is anticipated to take place in 2024.
For more information visit the Randwick City council website www.randwick.nsw.gov.au