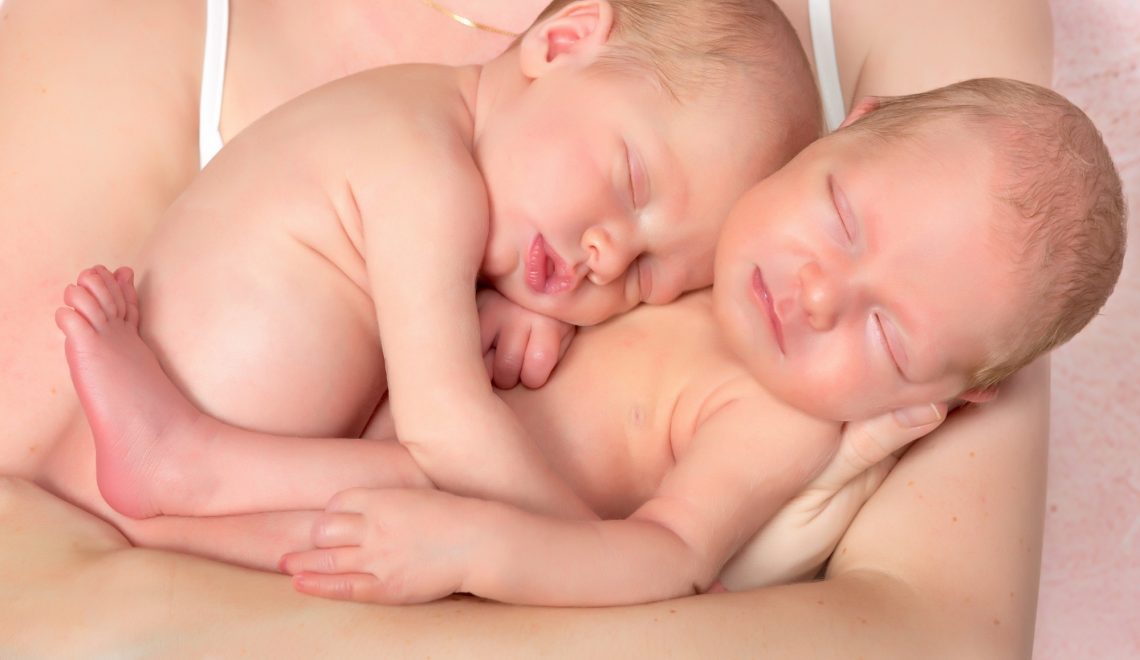 What to expect when expecting twins!   
By Obstetrician Dr Colin Walsh. Not one but two babies is a surprise and delight but also often a shock to parents having twins.   Dr Colin Walsh, an obstetrician at North Shore Private hospital answers the common questions of what a twin pregnancy can be like.
I'm having twins – how will my pregnancy be different?
Traditionally, 1-2% of pregnant women have twins. However this number is increasing with the widespread use of IVF.   A twin pregnancy immediately falls into the "high-risk" category. You are more likely to experience complications (preterm birth, pre-eclampsia, gestational diabetes and fetal growth problems) and you will need a higher level of care for your pregnancy.  
The Twins Clinic
I have recently set up a private clinic (The Twins Clinic; www.drcolinwalsh.com.au/twins-clinic/) at the North Shore Health Hub adjacent to North Shore Private Hospital.  The Twins Clinic is dedicated to the care of twin pregnancies and we offer comprehensive care for twin and triplet pregnancies including antenatal care, advanced twin ultrasounds and twin birth.  Recent studies show that twin pregnancies should be looked after by obstetricians with extensive, twins-specific experience and skills. Women who are having twins have better outcomes and fewer complications when their obstetrician specialises in managing twin pregnancies. Twins Clinics also allow women to have their ultrasound scans and antenatal visits all in the one place, by an expert in twins. You receive your results and advice much faster, with less running around and much better continuity of care. Most of my patients who are expecting twins deliver at North Shore Private Hospital and the paediatricians, nurses and midwives at NSP are extremely experienced in caring for twins.
I don't fully understand the different types of twin pregnancy.  Can you explain them?
Twin pregnancies are classified according to the number of placentas (chorionicity) and the number of fluid sacs around the babies (amnionicity).  In general terms, the more structures the twins share, the higher the risk.  
Dichorionic-Diamniotic (DCDA twins)

are the commonest type (80% of twins).  Each twin has his/her own sac and his/her own placenta. Most DCDA twins will be 'non-identical.'

Monochorionic-Diamniotic (MCDA twins)

are the second most common type (20% of twins).  The twins share a single placenta but each have their own sac.  These twins are 'identical' and will be the same sex.

Monochorionic-Monoamniotic (MCMA twins

) are very rare (<1% of all twins).  These identical twins share both the placenta and the same amniotic sac.
My twins are sharing a placenta – why is this more risky?
Approximately 20% of twins share a single placenta (monochorionic twins).  These twins carry an added 10-15% risk of Twin-Twin Transfusion Syndrome (TTTS).  TTTS is a very serious problem, where the twins don't share the placenta equally and can be life-threatening for both babies. TTTS can only be diagnosed on ultrasound scan and detailed ultrasound scans are needed every 2 weeks, commencing at 16 weeks, for the duration of the whole pregnancy.  MCDA twins should be cared for by a Maternal-Fetal Medicine specialist who can monitor closely for this complication.  I have cared for hundreds of MCDA twin pregnancies.  
For more information on having twins or if you'd like to chat further with Dr Colin Walsh get in touch
Dr. Colin Walsh is an Obstetrician and Maternal-Fetal Medicine (MFM) specialist with nearly 20 years' experience.