Free Skate Coaching, Skate Jams + Demos for teens 13 – 17 years, at Bondi Skatepark thanks to Waverley Council
About this event
Join us for free Concrete Riders Skate Lessons followed by Skate Jams and Skate Demos at Bondi Skatepark for teens aged 13 – 17 years, thanks to Waverley Council.
With Concrete Skate Supply hosting the events, you'll have the opportunity to watch demos and skate alongside local sponsored skaters plus there's over $1000 worth of prizes and giveaways up for grabs!
SCHEDULE OF EVENTS
Date 26 June 2022
11:00am – 12:00pm Learn to Skate Coaching BYO gear or use ours
12.30pm – 2:00pm Skate Jam Comp: 15 years & under
2.30pm – 4:00pm Skate Jam Comp: 17 years & under
4.00pm – 5:00pm Skate Demos
IMPORTANT: All participants must complete a waiver form here. Registration and waiver submissions are essential, please book early as places are strictly limited.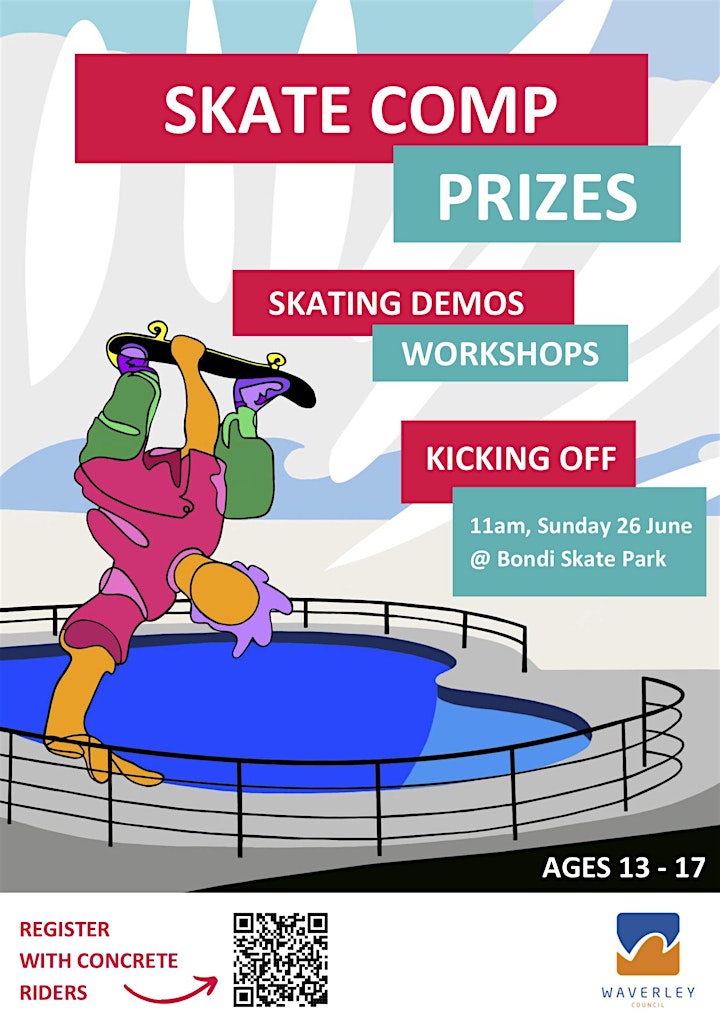 Learn to Skate Coaching with Concrete Riders
Beginners: learn the foundations – from the correct way to stand, stop and correct, to the basics of skateboarding safely.
Intermediate: learn how to turn on ramps and creating lines throughout the park (combining two or more tricks in a row is called a "line", e.g. drop-in on a ramp followed by a Kick Turn on another ramp).
Advanced: for skaters who want to become proficient in connecting all the tricks around the park, focusing on correct technique and body positioning and the skater's individual goals.
GEAR: bring your own equipment or borrow some for free; protective pads, helmets and skateboards are available for use.
Please note that this is an outdoor event and cancellation is subject to weather conditions, skating cannot go ahead on wet grounds.
For any inquiries please email us at bookings@concreteriders.com.au