Moving into a new home can be a stressful experience, especially when it involves a large five-bedroom property with limited access for trucks. Booking with an experienced team of removalists who are experts in planning large, full service moves makes the process seamless and stress-free. With our full-service white glove move, we successfully moved a client from Bellevue Hill to Coogee, Sydney.
What makes Better Home Removals a 5-star moving company? 
When Better Home Removals was asked to quote on a large five-bedroom home in Bellevue Hill, we performed an in-person assessment of the move. Our comprehensive assessment provides our clients with clarity of what to expect well ahead of the move. Our clients are fully briefed about how to prepare for the moved, where the move fits in with their overall plans, and the promise of a beautifully unpacked home at the other end of the project.
Our initial assessment of the job laid out the following timetable for the move:
The job required two days to pack the Bellevue Hill home. The estimated number of boxes was 350 boxes plus 30 porta-robes. These initial two days included a preparation planning session for the move.

The relocation itself was estimated to take another two days.

Our quote included a final two days to unpack all the boxes so that the home owners could walk in to their dream home in style.
Moving from Bellevue Hill to Coogee 
Day 1 & 2 – Packing and Preparation with our packing service 
Our amazing team of six professional packers and two removalists arrived and began packing the home, while the removalists dismantled and wrapped furniture, artwork, and fragile items with heavy-duty removalist blankets.
Day 3 – The Relocation Begins from Bellevue Hill 
On the third day, we deployed our team of six removalists for an early morning start. We used our ferry vehicle to transport all the goods from the house to the truck parked in front of the client's Bellevue Hill property. Our team spread themselves efficiently throughout the house and formed a chain of men, to quickly move almost all 350 boxes plus 30 porta-robes. By lunchtime, the truck was fully loaded and ready to drive to the new property in Coogee. Thanks to good access at the Coogee property, the Better Home Removals team managed to offload a full truck in no time!
Day 4 – Completion of the move to Coogee
Day 4 saw a Better Home Removals team begin work at the Bellevue Hill home early again. They used this day to transport essential goods, such as beds, fridges, and any other items they couldn't move on day 3. The proud home owners, decided to sleep in their old home for one last night. Once again, the truck was fully loaded before lunchtime and driven to Kingsford to offload.
Meanwhile, back at Coogee, we had a second team begin to assemble furniture that was delivered on Day 3. These included beds, dining tables, and other furniture that required assembling. By 1:30 pm, the team 1 had emptied the truck, and the Coogee home was fully coming to life in accordance to our clients' requests.
Day 5 & 6 – Unpacking and Organizing with our unpacking service 
The next morning, our team of six ladies arrived at the house to start the last part of the job, which was unpacking and organizing. Our wonderful team of ladies referred back to the notes from our assessment that we performed as part of our quote. With a clear picture of what the full move would look like, the ladies began work to bring to life, the move in accordance to the client's wishes. The entire Better Home Removals team unpacked more than 350 boxes and 30 porta-robes. It was certainly not an easy task to get through that many boxes, but after seven hours of unpacking, split over two days, the clients had their home fully set up. The team wrapped up the move by removing all the empty boxes and wrappers off the newly moved home so that out client could walk into their dream home in Coogee!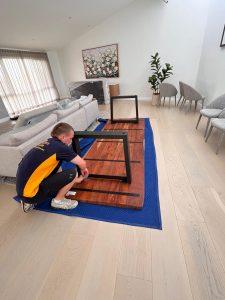 Better Home Removals is your only choice if you want to have a smooth move free from stress 
This job was completed with total success in a fraction of the time that was originally quoted. Thanks to the joint experience of the Better Home Removals team, we saved our client thousands of dollars. The reason behind that success was our effort and expertise from the time we quoted the job to the moment we took the empty boxes away and said to our client: "Goodbye and enjoy your new home!" Thanks to our expertise, we have the ability to plan multiple tasks throughout the move to save an enormous amount of time, without sacrificing the care it takes to pack, move and unpack the most precious of belongings from one large home to another.
When it comes to moving to a new home, using a premium home removals service like Better Home Removals can save you time and money by providing an efficient and stress-free experience. What are your waiting for? Ask for a quick quote from us for the best moving experience in Sydney!
Phone : 04 11 87 51 98