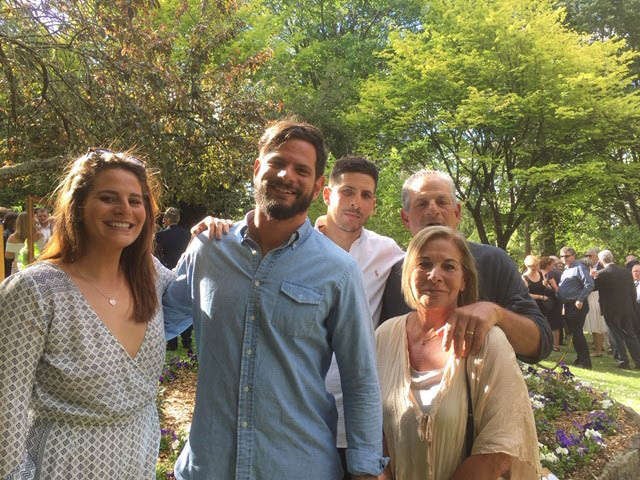 Where and how long have you lived in Sydney's east:
When born I lived in Bronte. Then I have lived in Bondi and now live in Charing Cross.
How many children:
I have 3 children. 2 boys aged 32 and 30 and a daughter
The 2 boys went to Cranbrook in high school and my daughter did 4 years high school at St Catherines and last 2 years at Reddam.
Favourite Park:
Centennial Park, Great for a walk, a picnic and watching the ducks. My favourite is watching the horses.
Favourite Beach:
Bronte Beach. We love walking the dog down the gully which is magical and letting our dog go for a swim at the end of the gully.
We then sit on the grass area near the pool and have met some great families there. A definite kids friendly area.
Favourite kid friendly cafe:
Bellagio. Great food and drinks. They have made the back area kid friendly with toys and good space.
Favourite Coffee Spot:
Bellagio. Definitely the best coffee in the area not to mention the amazing cakes. It's a relaxed environment to be healthy or not. There is inside and
out so you can choose where to chill.
Favourite date night place:
Dinner at Osteria Reva on Bronte Road and then a local pub. Osteria Reva have amazing hand made pasta dishes and anti pasta. They have now opened a pizza restaurant next door with possibly the best pizza we have ever tasted. True Italian experience. The Charing Cross Hotel is a great place for an after dinner drink. They renovated it a few years ago and it lovely and chilled.
Favourite Local Day Out Activity:
Going with my husband and dog Ziggy down to Bronte Beach. We walk down from Charing Cross which is great going down and a little difficult walking back…….great
exercise.
Favourite Local Shop:
The Florist. She is on Albion Street Waverley. Mainly does special events if you ever need a florist but always has something special in store.
Favourite wet weather location:
At home. With 3 older children, 2 who don't live at home we often get together for a nice breakfast on rainy days. Then with my whole family loving sport they sit down to watch something on Foxtel while I chill and play games on my ipad.
Describe an ideal day in Sydney's eastern suburbs for you?
Wake up and take a stroll to Iggy's bread shop on McPherson Street. Then pack the bags and go down to Bronte Beach. We are nature lovers and real beach goers. With both of us working this is our perfect relaxation.
What area of the east have you yet to explore much but would like to?
Probably around Clovelly and Coogee. I don't go there very often. It has grown so much and perhaps we should spread our wings and investigate.
Work or SAHM:
I own SKOOT and love every minute there (part time with my daughter). The people we meet are amazing and we all love what we do.
Motherly advice:
Give your children as much quality time as you can but never forget that you are important too. I had 3 athletes ( one who went on a basketball scholarship to America) and truly believe that if your child finds something they are passionate about your journey is so much easier with them. When they are older the time you spent with them will be the most rewarding.
Special Offer for Eastern Suburbs Mums
Discount for ESM: 20% off all treatment and produce except for fillers and botox for their first visit and 10% off treatments (not product or botox) for VIP customers.